AMA Kitchen, the highly anticipated culinary destination, is set to Launch Soft Opening at Katy Asian Town in Houston  On June 9, 2023.  AMA Kitchen offers 25% discount for all dishes till June 18th!
Nestled at the intersection of Houston's bustling Interstate Highway I-10 and Highway 99, the renowned Katy Asian Town offers a myriad of Asian restaurants, the Hmart supermarket, JCPenney department store, the Cinemark movie theater, and the Kinokuniya bookstore. Prepare yourself for an extraordinary gastronomic adventure as AMA Kitchen launches its soft opening trial run.
The soft opening features the renowned Thai Street Eatery, offering authentic Thai cuisine, Bow King with delicious and healthy Vietnamese meal boxes, and Mr.Sun serving authentic Japanese cuisine. Each restaurant has unique specialty dishes that will surely satisfy your taste buds!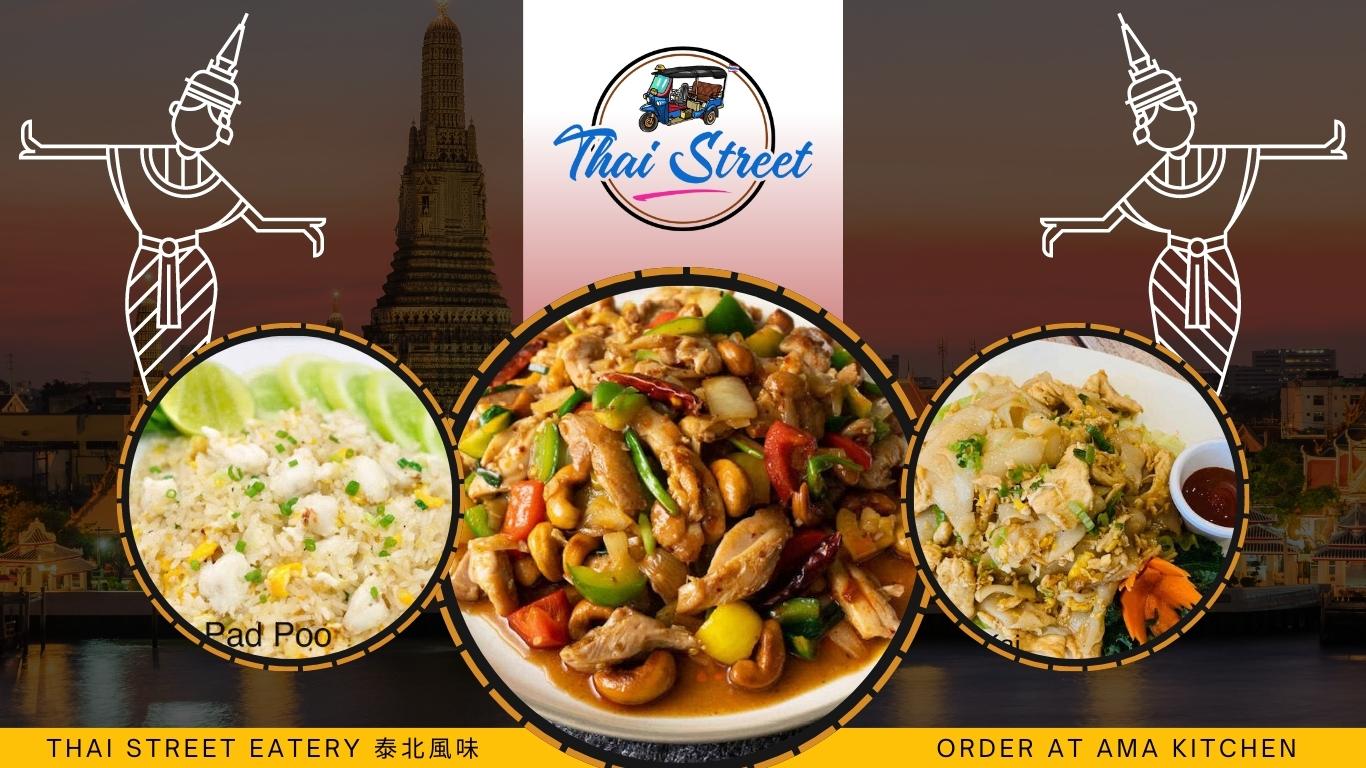 Thai Street Eatery – A Taste of Thailand's Finest
Thai Street Eatery, a renowned Thai restaurant with a 20-year legacy in Oregon, has expanded its horizons to AMA KITCHEN in Houston. Experience the authentic flavors of Northern Thailand with their specialty dishes like the must-try Crispy Chicken Basil, features carefully selected chicken breast fried to a golden crisp, with a soft and juicy texture with holy basil. For vegetarians, Crispy Chicken Basil offers a tantalizing tofu option.
Another classic choice is the Red Curry (Kang Dang) dish, made with carefully selected dried red chili, fresh lemongrass, and exotic spices. The red curry sauce is known for its distinctive flavor. You can choose to pair it with chicken, beef, shrimp, or tofu, along with fresh vegetables and a bowl of steaming rice to balance the spicy flavor of the red curry.
Don't miss the exquisite signature dish, Northern-Style Fried Rice Noodles (Kua Kai), with succulent chicken, cabbage, onions, eggs, and bean sprouts.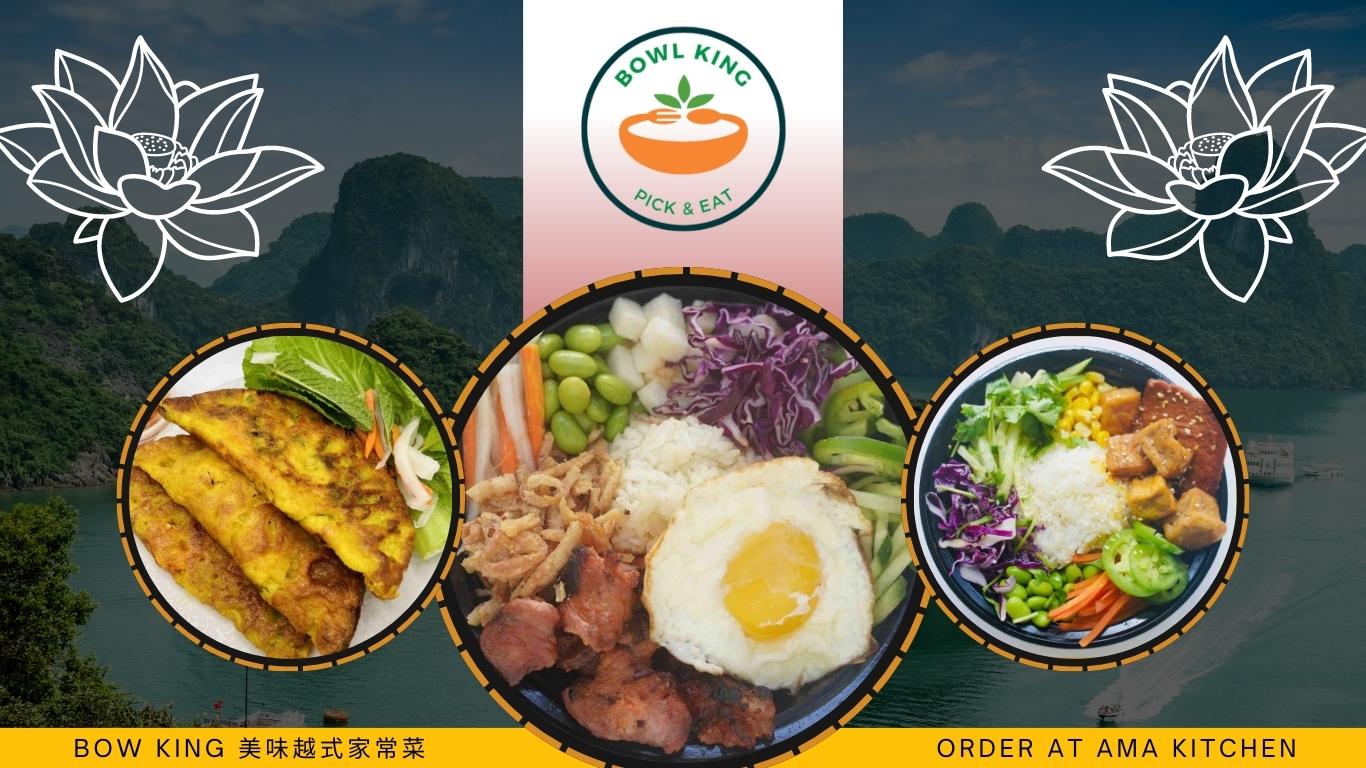 Bow King – Delicious Vietnamese home-cooked dishes
Bow King is dedicated to providing customers with home-cooked meals that taste like mom's cooking. All ingredients are carefully prepared. The founder, Mrs. Quyen, is a Vietnamese-American and a cooking enthusiast. With a deep understanding of healthy eating, she combines traditional Asian ingredients with modern American health concepts.
At Bow King, you can enjoy delicious home-cooked meals anytime and take a break from the busy life in Houston. We recommend trying their signature dish, King Bowl 1, which consists of grain rice topped with flavorful grilled pork, sprinkled with sesame seeds, scallion oil, and a nutritious and delicious fried egg. It is garnished with tomatoes, pickled cucumbers, edamame, and Jamaican pickled peppers, and finally drizzled with a special sauce. The fragrant grilled meat, spicy pickled cucumbers, and the combination of the special sauce will make your taste buds dance.
For vegetarian enthusiasts, we recommend trying King Bowl 3, a healthy vegetarian meal box. It features purple rice as the base, paired with crispy tofu, plant-based meat, refreshing cucumbers, edamame, cilantro, purple cabbage, corn, and spicy pickled peppers, all seasoned with sweet soy sauce. It offers diverse and creative options for vegetarians.
Of course, you can also customize your healthy meal box according to your preferences. You are free to choose rice, red rice, or brown rice as the base and select a main dish rich in high-quality protein. Pair it with fresh vegetables and "Bow King's" special sauce to create a healthy meal! We recommend pairing it with the popular and classic "fish sauce"!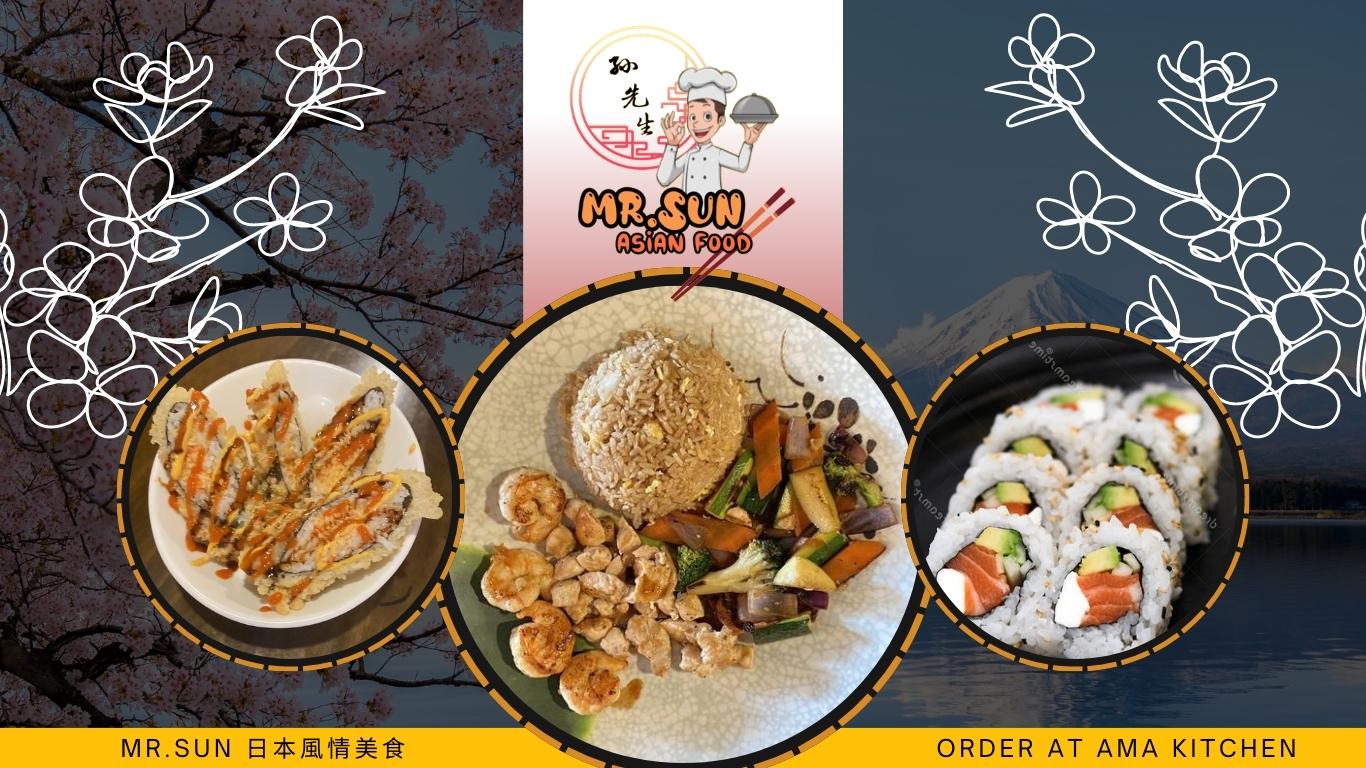 Mr.Sun – Taste the essence of Japanese cuisine
Mr.Sun is specializing in authentic Japanese cuisine. Whether you love spicy seafood salad, teppanyaki dishes, or authentic fresh sashimi, Mr.Sun can bring you Fresh and delicious Japanese dishes. We recommend the following must-try dishes:
Hibachi Steak & Shrimp
This dish allows you to savor delicious steak and fresh shrimp at the same time. The hibachi steak is cooked to perfection, with tender and juicy meat that emits a captivating aroma. The shrimp, cooked on a hot teppanyaki grill, brings a unique flavor. You can choose rice or noodles as the staple food and pair them with tasty side dishes to create a well-balanced and nutritious meal.
Tuna Sushi/Sashimi
Don't miss the delicious tuna sushi/sashimi delicacy. Fresh tuna has a tender texture and is considered a treasure in the sushi world. Whether it's sushi or sashimi, you can taste the rich fatty oils and exquisite flavor of the fish. Every bite allows you to savor the authentic taste of the fish, making it an irresistible choice for Japanese cuisine lovers!
Spicy Crab Salad
This fragrant and spicy salad features tender crab meat combined with a special spicy sauce, drizzled over fresh lettuce. Each bite offers the sweetness of the crab meat and the kick of spiciness, creating a delightful combination with the refreshing vegetables. The fusion of spicy seafood and healthy salad provides a unique culinary experience!