Are you a devoted bubble tea enthusiast in search of the ultimate boba experience right here in Katy Asian Town? Your quest ends here! Join us as we embark on a flavorful journey through the top three boba shops, each offering a delightful array of toppings that are guaranteed to tantalize your taste buds and transport you to a paradise of irresistible flavors.
1. Gong Cha: Masters of Milk Foam
Gong Cha, the global bubble tea sensation in Katy Asian Town, is renowned for its exceptional Milk Foam creations. These velvety, sweet, and savory delights are handcrafted for each customer, using the freshest milk and premium ingredients.
The Milk Foam with Green Tea is a standout favorite, as the Milk Foam's flavor elevates the green tea to new heights. Resist the urge to stir these foam-topped teas; sip slowly to savor the blend of foam and aromatic tea.
Additionally, the Lemon Ai Yu with white pearls is a must-try! It's a refreshing drink featuring fresh lemon juice with white pearls and Ai Yu Jelly adds a satisfying chewiness to the mix, making it an ideal choice for those seeking a refreshing and light beverage. Moreover, you can customize your sugar and ice levels to suit your taste preferences!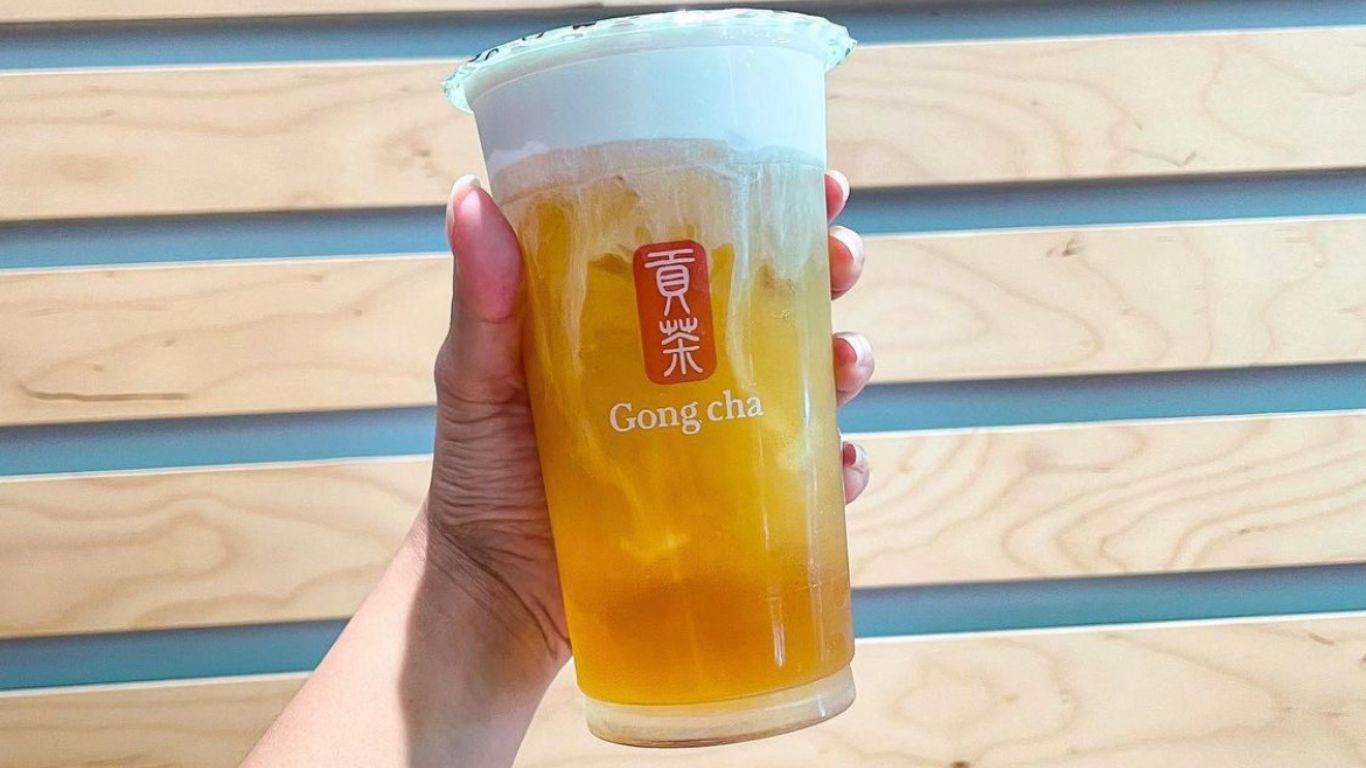 2. Tea Top: Elevating Boba to Art
In a world of boba options, Tea Top stands out for its quality, consistency, and inventive flavor combinations. Whether you're a fan of classic milk tea or eager to explore the fruit tea, Tea Top has something for every boba lover. So, if you find yourself in Katy Asian Town, make sure to visit Tea Top. You won't be disappointed!
Tea Top's boba is consistently a delightful blend of sweet and chewy, perfectly complementing their flavorful tea offerings. If you're a fan of a robust tea taste in your milk tea, the Sun Moon Lake milk tea is a must-try. The flavor is incredibly smooth, and what sets it apart is the taro boba. It's extra chewy with a dense texture that adds a whole new dimension to the experience.
For those seeking a symphony of fruit flavors and chewy topping, the Passionfruit QQ Medley is the answer. It features the Passion Green Tea Medley with boba and coconut jelly. The tea flavor is robust but not overpowering, striking a perfect balance. You won't feel like you're drinking syrupy tea; it's a well-blended infusion.
Tea Top's toppings are always on point, generously portioned, and perfectly cooked. The boba stands out with its ideal chewiness and subtle sweetness.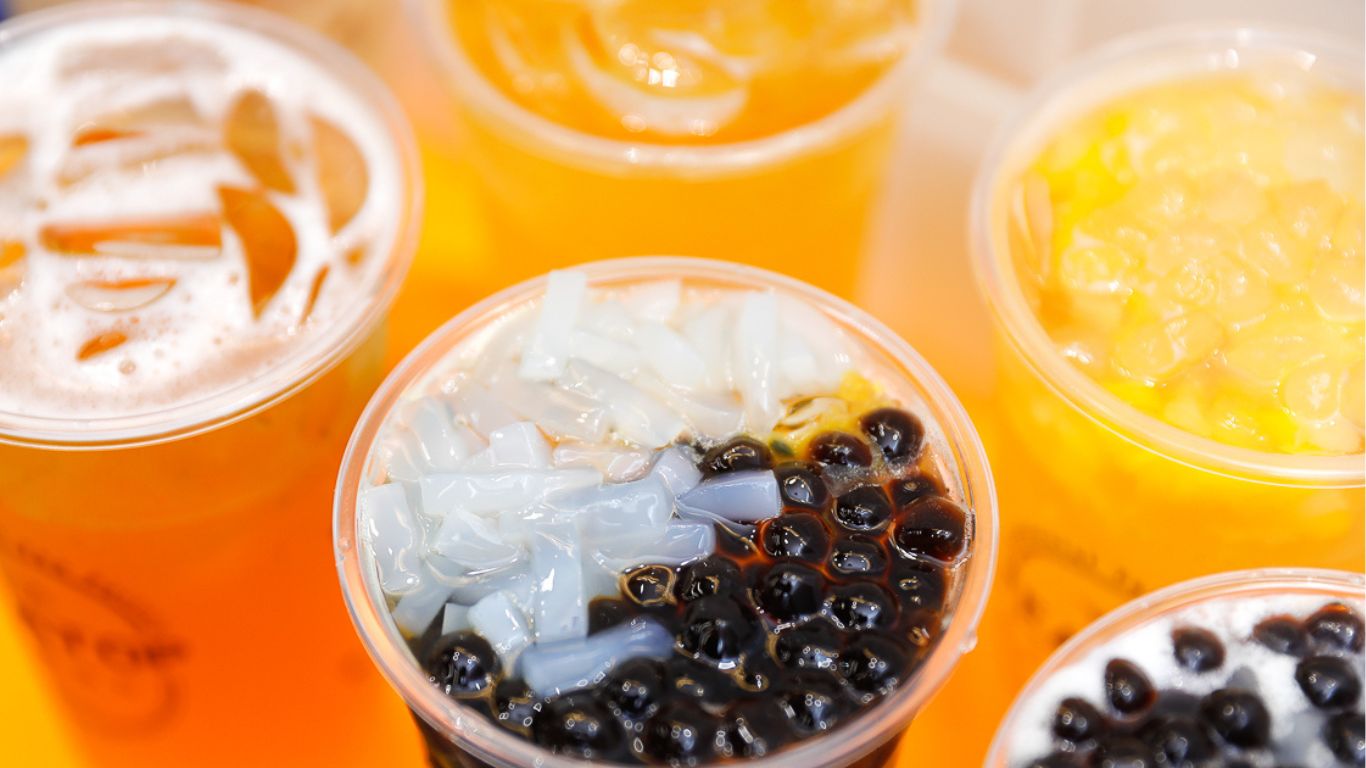 3. Ding Tea: The Epitome of Boba Excellence
When you step into Ding Tea, don't miss their signature drink, the Monster Boba Latte which combines the rich flavors of brown sugar with a generous dose of fresh milk. What truly sets it apart is the boba – delightfully chewy and utterly satisfying. The boba infusion elevates the drink, making it an explosion of flavor and pure tastiness.
Ding Tea boasts an impressive array of toppings, and one standout is their golden boba. This unique twist on the classic boba is a game-changer. It's chewy, possesses a fantastic consistency, and boasts a slight sweetness that's simply irresistible. These toppings pair exceptionally well with Ding Tea's drinks, creating an experience that's nothing short of addictive.
If you're in the mood for something refreshing, look no further than their winter melon tea with Golden Boba and Grass Jelly. This masterful blend strikes a harmonious balance between sweet and refreshing. The soft and chewy golden boba, along with the grass jelly, creates a delightful hug for your taste buds.
In a world brimming with boba options, Ding Tea stands out as a destination that's a cut above the rest. Whether you're a seasoned boba lover or a newbie looking for an exceptional boba experience, Ding Tea should be on your list of must-try spots.
Katy Asian Town: A One-Stop-Shop for Diverse Cuisines and Flavors
AMA On-The-Go has partnered with over 30 local restaurants in Katy Asian Town, including Gong Cha, Bingo Cake Cafe, Thaicoon Restaurant and Bar, and Yomie's Yogurt. This platform offers a one-stop shop where customers can order food from multiple restaurants in minutes, allowing for a more diverse selection of cuisines and flavors in one delivery.
Don't miss out on the diverse cuisines and flavors of Katy Asian Town. Place your order now with AMA On-The-Go and enjoy a delicious meal delivered straight to your doorstep!
In the vibrant Katy Asian Town, it's not merely about indulging in bubble tea; it's an expedition into a realm of extraordinary boba creations that will tantalize your senses. Immerse yourself in the harmonious blend of flavors and textures that await you. Your boba paradise is just a few clicks away!